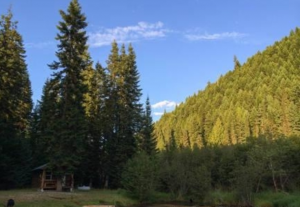 Woohoo! We're busy working at the new Black Rose Spiritual Retreat Center, getting things ready for our first guests in September!
Please take a moment to check out our retreat center page, and give us a 'like' on facebook!!
Black Rose Retreat Center offers exclusive getaways to our members in the heart of the largest contiguous area of public lands in the continental US. With a quarter mile of water frontage along Prospect Creek and Lolo National Forest surrounding our property, Black Rose Retreat Center is a nature lover's dream come true!
A sampling of area activities:
*Whitewater Rafting & Kayaking
*Hunting (We offer a quiet place to relax after hunting, but we're neither guides nor outfitters. Please come prepared to lead your own hunts.)
*Fishing (in local rivers and streams, as well as in our own pond)
*Hiking
*Skiing
*Mountain Biking
*Snowshoeing
With a maximum of 6 guests at any time, your visit is sure to be peaceful and memorable!
http://www.blackrosespiritualcenter.org/wp-content/uploads/2013/04/header-logo.png
0
0
Black Rose Spiritual Center
http://www.blackrosespiritualcenter.org/wp-content/uploads/2013/04/header-logo.png
Black Rose Spiritual Center
2015-07-28 21:38:59
2015-07-28 21:38:59
Black Rose Spiritual Retreat Center